Tortoises
are a family of land-dwelling
reptiles
in the order
Testudines
. Like their
marine
relatives, the
sea turtles
, tortoises are shielded from
predators
by a shell. The top part of the shell is the
carapace
, the underside is the
plastron
, and the two are connected by the bridge.
Female tortoises dig nesting burrows in which they lay from one to 30 eggs.
Egg-laying typically occurs at night, after which the mother tortoise covers her
clutch
with sand, soil, and organic material. The eggs are left unattended, and depending on the species, take from 60 to 120 days to incubate.
The size of the egg depends on the size of the mother and can be estimated by examining the width of the
cloacal
opening between the
carapace
and
plastron
.
tortoise eating style
Big Tortoise
Tortoise Smelling
Angry Tortoise
Naughty Turtle
Fight of Turtle
Noble Tortoise
Tortoise Swimming
Turtle
Totoise taking Lunch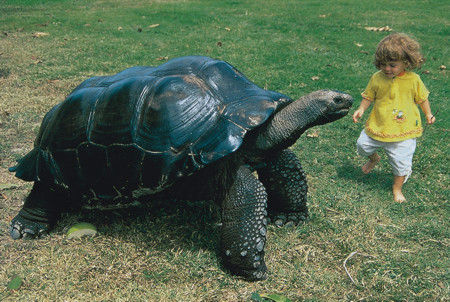 Turtle playing with kid
Tortoise eating Redish
Gif Tortoise
Tortoise Abusing